This is our take action page – for social justice, alternative transit, reporting to government, and connecting to local community change orgs. Every map user is encouraged to contribute in some way. Spread the word about this page!  After taking action, go deeper by joining our partners' campaigns.
Possible actions:
(1) Bike Facilities & Potholes: Report & Request! You can ask the city to install bike racks, to fill potholes, and more – use the LADOT request page, or call 311. Does the city respond to your request? Let fellow readers know by leaving a comment below.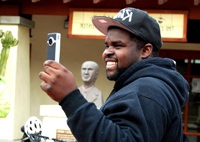 (2) Bring your People. What's your pull? The number of riders depends on how many people you bring to the ride. Many nearby residents have never biked on these paths – so bring a neighbor and their kids. If you're from further away, we also advocate "bike diplomacy" to cross neighborhood and zipcode boundaries. Group rides are a fun and safe way to explore a new neighborhood.  Also check out our schedule of upcoming group rides, or signup to be notified of future rides.
(3) Send us a testimonial. If you have taken part in one of our rides, let us know what you liked (and what could be improved) about the experience. You can comment on the testimonial page, or contact us with your thoughts.
(4) Share Pictures to Re-Imagine our City. The stories we tell have power, and it's easier than ever to share pictures with your friends. Few people even realize that biking is possible in South LA, or that it can connect us to social change! The best are your own pictures, but you can also share any from our collections. When you share a picture, say a few words about what it is like to ride in South LA. Send your pictures by email to friends, post them to Facebook, etc.! Tag them with #RideSouthLA. Your voice is critical to shifting the vision of Los Angeles.
(5) Vote with Your Dollars. Local businesses support community development in S LA. Your dollars have influence… tell shop owners you know it. Along each route, we are handpicking businesses that support social justice and community development. (For example, see the stop-by-stop guide for our Watts Ride.)
(6) Join a Local Campaign for Justice. We have selected some of the best local campaigns for justice, focusing on the local partners that made this map. Issues include:  (a) affordable housing / community redevelopment; (b) food justice / health in LA / exercise; (c) bicycle justice / alternative transport / CicLAvia.
(7) Suggest More Maps & Resources. Your suggestions/photos/ideas will be incorporated into future maps and printings.