<< back: Watts Ride overview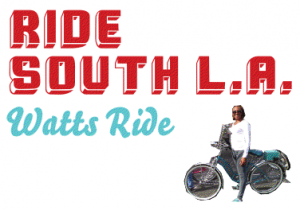 This page helps you augment the ride, stop-by-stop.  It's especially useful for Smartphones to follow as you ride, but it can also work for those who want to print this in advance.  We include food spots that support the community, social justice hotspots, and bike shops.
Store hours often change, so a call is often worth it.
–riding down Holmes, approaching Florence —
PANCHO'S BAKERY
Action:

Right on Florence

Right on Central

Stop at Central &76th

Location:

On the route

Info:1759 E Florence Ave

(323) 582-9109

 
–riding down Holmes, approaching Florence —
MORENO BIKE SHOP
Action:

Right on Florence

Right on Central

Stop at Central &76th

Location:

Six blocks off the route

Info: 

7525 S. Central Avenue

(323) 584-1014

 
–riding down Holmes, approaching E. 76th Pl.—
ROOSEVELT  PARK
Action:

Stop at Roosevelt Park

Location:

On the route

Info:7600 Graham Ave

(323) 582-9109
–riding down Holmes, approaching Nadeau—
MOTHER'S BIKE SHOP
Action:

Right on Nadeau

Stop at Central & 79th

Location:

Five blocks off the route

Info:

7901 S. Central Avenue

(323) 588-9894

 
–riding down Graham, approaching 103rd–
WATTS COFFEE HOUSE
Action:

right on 103rd

In between Beach and Wilmington

Location:

3 blocks off the route

Info:1827 E. 103rd St.

(323) 249-4343

 
–riding down Maie, approaching Firestone–
WASHINGTON PARK
Action:

Stop at Washington Park

Location:

On the route

Info:8908 S. Maie Avenue
–riding down Maie, approaching Firestone–
ANTHONY'S BICYCLES
Action:

Right on Firestone

-In between Hooper & Central

Location:

Four blocks off the route

Info:

1143 Firestone Boulevard

(323) 583-4047

 
— riding down Central, approaching WLCAC —
WATTS LABOR COMMUNITY ACTIONS COMMITTEE
Action:

Stop at WLCAC

Location:

on the route

Info:

10950 South Central Avenue

(323) 357-6271

www.wlcac.org

 
ESR BIKE & SKATESHOP
Action:

Stop at WLCAC

Location:

on the route

Info:

10950 S. Central Ave

 
–riding down central, approaching Watts Towers–
WATTS TOWERS ART CENTER
Action:

Stop at Watts Towers

Location:

on the route

Info:

10950 S. Central Ave

www.wattstowers.us
Tours (every 30 mins)

 
— from Watts Towers–
WATTS CYCLERY
Action:

Right Santa Ana Right Wilmington Stop at Wilmington &108th

Location:

Two blocks off the route

Info:

11202 Wilmington Ave

(323) 563-6604

 
‎