Today we are thrilled to announce that the Guggenheim Museum has included our video in their new exhibit on the Participatory City. Our contribution is a video response to the term "Collaborative Urban Mapping," based on our work in South LA with the Healthy Food Map. The video was funded as part of the Guggenheim's exhibit, which addresses "100 Urban Trends from the BMW Guggenheim Lab," and is showing from October 11, 2013 through January 5, 2014. The exhibit explores the major themes and ideas that emerged from the Lab during its travels to New York, Berlin, and Mumbai. See all videos in the collection in a YouTube playlist (ours is #17).
Here is our video (English version — for Spanish see below):

Our Statement:
"Collaborative urban mapping" is different than just making group maps online, or celebrating the digital. To make our maps, we take a deliberately low-tech approach to the collaborative side, both for reasons of equity and innovation. Our goal with mapping is to empower a neighborhood, since empowerment shifts the frame to collective efficacy and civic literacy, rather than data as a good unto itself.

In South LA, we want to shatter some stereotypes — to show that the Watts Towers can be reached by bicycle, that urban gardens are often hidden in plain sight. Mapping is a kind of local media, spreading stories that resonate with neighborhood storytelling networks.

We tell a collective story with our process, embedding mapping with bike parades and group walks. The Vojo technology works with very basic phones (no apps!), reaching across the digital divide. Participants are invited to tell their own stories in pictures and SMS messages. We resist the "crowdsourcing" that treats participants as cheap sensors for data. Instead, we proclaim that distributing our voices is an act of civic advocacy, a way to build power.

Even as we mount iPads to bicycle handlebars, our multi-platform approach always involves paper and people. Paper maps are easy to write on and draw what should change. "Walk the map," we say — and tell us what is missing! Use it to organize! For us, every part of mapping is an excuse to talk to strangers and friends, to set neighborhood priorities and to advance social change.
Press Update: our video release was covered by USC News on October 11th!
Team biography:
RideSouthLA ( http://RideSouthLA.com ) is a collective that is bringing mobile mapping, bicycling and social justice to South LA. Our mapping is multi-platform, involving mobile phones, paper and our bodies in space. We seek to tell a neighborhood story of assets and opportunities that is bigger than any one organization. For us, mapping is a tool for social change — documenting our community, envisioning our future, and building our collective power. Our team includes many organizations and individuals, including TRUST South LA, Community Services Unlimited, bike clubs like the East Side Riders, and University partners including the USC Annenberg Innovation Lab, the Metamorphosis Project, and the USC Laboratory on the Social Frontier. Technology and design partners include VozMob, Vojo.Co, and DesignedByColleen. Countless individuals have joined our mapping process by contributing their own images, stories and strategies for change.

The physical installation evidently looks like the image below, according to the Guggenheim. Our term appears in the gallery (it's in the top-left of the diagram on the wall below), but the video itself shows primarily online.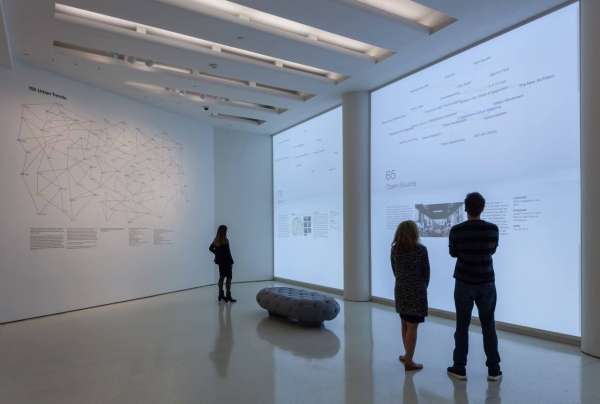 …and here is the Spanish subtitle version: