On April 20th, we rode to several local businesses to hand out the Watts Ride map.  Would businesses love it?  Is distribution a kind of community organizing?
This was a test ride, led by John Jones III of the East Side Riders.  John is explaining the map below to a British tourist, along with staff at the Watts Towers Art Center.  Here's a quick picture, courtesy of Francois Bar: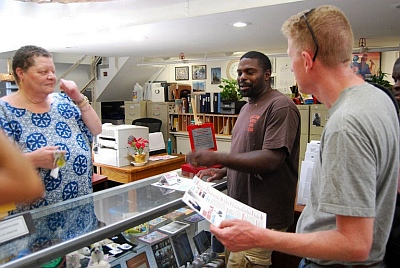 These folks seemed intrigued to be featured on our map.  They agreed to put out a stack of the map.  Yet there was some restraint and caution.  People were still trying to figure out all our motives, and the implications for their organization and partners.  Since we wanted this to be part of an ongoing conversation, we intentionally only left small stacks of the map  (maybe 20-30), and told them to call us when they ran out.  We also plan to be back.
Politicians were one target.  Below is some of our crew in front of Councilman Joe Buscaino's district office.  (We used the child carrier to also bring the maps!)
Where do the maps sit? For the Councilman's office, there was a community literature table that welcomed contributions. We made our stack of maps a bit distinctive by folding one of them and taping it to the top of the pile (see photo below). We suspect that the folded maps might work much better for distribution, since in a flat stack they look just like fliers. What we don't know yet is whether such tables receive any attention — how many maps will be picked up over two weeks?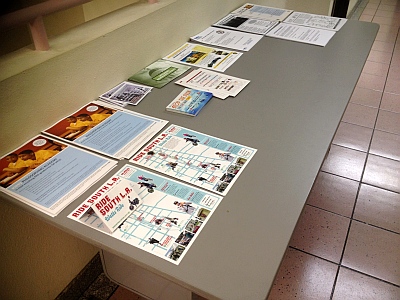 Perhaps the most powerful moments on our test ride were the conversations with the community. Outside the Councilman's office, a man in a wheelchair was highly interested in the map and quizzed the riders about it. The map gave an excuse for conversations that the ESRiders wanted to have. In community organizing, such conversations can be critical to staying in touch with the community, hearing their priorities, and discussing upcoming actions. Of course, such conversations take real time — but they may be necessary to reach genuinely new audiences beyond the "usual suspects" in bike shops and on bike mailing lists.